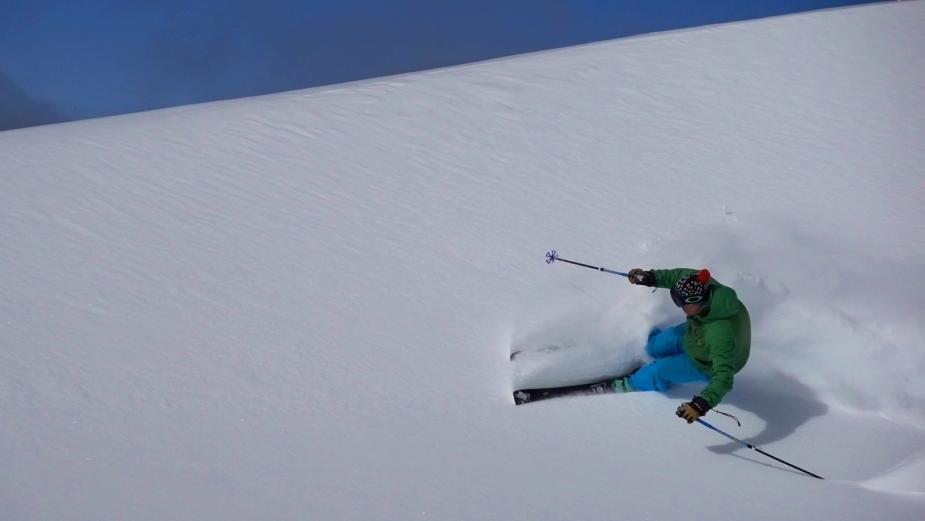 2017-18 Boot Brand News...What's Fresh This Year?
Sep 09, 2017 - 07:08pm by
Mark Elling
2017-18 BOOT BRAND NEWS
Medals: 7 ABB Best of Test, 1 ABB Best of Category; Avg. score 21.41
Revised liner construction isn't the sexiest of leads, but it's the first thing testers felt when putting on the all new RS and RX boots at this year's test. They're more shaped yet firmer where control is needed, cushioned where it's not and mirror-matched to the interior of the shell. However we do think Lange's Dual Core shell technology in the RS and RX lines this year is way sexy—at the factory two different densities of the same plastic are injected into the shell and cuff molds simultaneously (very tricky) to produce a shell wall with a more elastic center, which creates a surface-tension-like energy within the shell. Lange claims this makes these boots snappier and more reactive without loss of power or stability. Our tests confirmed that.
Medals: 7 ABB Best of Test, 1 ABB Best of Category; Avg score 20.73
Last season, Nordica ushered in the long-awaited return of the 100 mm Speedmachine to reclaim its rightful medium-width position in the market. This year they triple-down on that success with a tester-approved liner revision in the Speedmachine 130, a brand-new 102 mm wide-ride version of the Speedmachine called Sportmachine and a new series of On-Off Area rippers based off the medium-width Speedmachine called Strider. The bootfitter-savvy Infrared customization system continues on this year (shell stretches are sucked into position by a vacuum powered suction cup apparatus) and they add in a cool and industrial-looking shell stretching tool called the Crocodile. Let's not forget about Nordica's iconic narrow-last performers—our testers still love the All-Mountain GPX boots, and the 110-flex Dobermann GP was the test's highest scoring Soft-Value entry.
Medals: 7 ABB Best of Test, 1 ABB Best of Category; Avg score 20.46
This season Rossignol adds a new wider member to the Alltrack team, the Track line-up for men and women, which brings a 130-flex and a hike mode to the super wide 104 mm last--a first of its kind on the market. For men, it's available in 130-, 110-, 90- and 80-flex options, and an 80- and 70-flex for women. We tested the men's Track 130 at this year's test where it took the gold in the On-Off Area wide group.  Returning unchanged outside of cosmetic updates are the Alltrack Pro medium-widths and Alltrack 102 mm boots for men and women. The fixed-cuff Allspeed (men's) and Pure (women's) All-Mountain boots also return with minor cosmetic tweaks only. WTR (Walk to Ride) soles are available on all these boots, and you'll find Thinsulate liners across the board.
Medals: 6 ABB Best of Test, 2 ABB Best of Category; Avg score 20.82
Tecnica's bootfitters collective, Project 165, turns out another innovative boot fit solution this season with the women's All-Mountain Mach1 series boots, which sport the new Custom Adaptive Shape (C.A.S.) Cuff Adapt feature. This low-temperature plastic insert at the back of the calf can be heated, along with the rear liner cuff, with a unique soft-taco-like pad which wraps the whole area. Once it's up to temperature the skier simply wears the boots and the cuff shape changes to better match the leg shape. The cuff's volume will reduce by 5% for slender legs and increase up to 10% for thicker calves. The C.A.S. shell (pre-dimpled areas for better shaped and better lasting heat stretches) and C.A.S. liner (highly moldable and grindable microcell foam exterior) are now found on both the Mach1 and Cochise series boots. The backcountry-centric Zero-G line utilizes C.A.S. shell construction.
Medals: 5 ABB Best of Test, 1 ABB Best of Category (out of 7); Avg. score 20.34
Atomic is back again with the award-winning Hawx trio for men and women—narrow Hawx Ultra, medium-width Hawx Prime and wide Hawx Magna. As expected at this year's boot test, no big new changes to the Hawx alpine boots meant the same, winning test scores came in. What's new this season for Atomic occupies two very different ends of the boot spectrum—race and backcountry. We were unable to test the new Redster Club Sport (Frontside category), which is a more approachable and genteel 96 mm version of the full-gas 92 mm Redster World Cup. We were however, introduced to the Hawx Ultra XTD 130, a rockered, tech-compatible, Grilamid-powered monster of a featherweight that dominated our Backcountry category. Testers didn't say it was a sellout, they said it's gonna sell out!
Medals: 4 ABB Best of Test, 1 ABB Best of Category (out of 7); Avg. score 20.18
Head has consistently been one of the boot test's winningest brands in recent years, with top-of-heap performances from its narrow Raptor line for men and women and the medium-width Vector Evo boots for women and men. This year is no different, with those models topping category A-lists and a solid showing from the 102 mm wide Advant Edge range. Head's boots are known for well-shaped, comfortable fits, powerful on-snow character and dialed stance angles—so, it's this latter bit that we bootfitters noticed this year. Why? Because now Head offers canted soles for their Vector and Advant Edge lines. They didn't need to do it—most folks are dialed in Head boots—they chose to do it so that everybody can be dialed in their boots. And we applaud that.
Medals: 3 ABB Best of Test, 4 ABB Best of Category; Avg. score 18.70
This year K2 reinvigorates its entire boot line with revised liners, new looks and a slick, Thermic-powered heated liner in key models. The All-Mountain Spyne and Spyre (women's) series received liner makeovers that include a seamless toebox construction for a more open fit and more room at the navicular and lateral side of the foot (testers liked all that). The cuff-releasing Pinnacle and Minaret (women's) ranges also got a liner re-vamp, this time lighter with a better-designed rear articulation for improved touring quality of movement. As in the past, all the K2 liners are partnerships with Intuition. The new and well-executed Thermic heat system is available in the new Spyne 120 Heat, Spyre 100 Heat and two, new, stiffer 103 mm B.F.C. models for men and women at 120- and 90-flexes, respectively.
Medals: 2 ABB Best of Test, 2 ABB Best of Category (out of 5); Avg. score 18.12 (Avg. custom score 21.17)
An ownership change in 2007 ushered in a new era of expansion and improved design for DaleBoot—with dealer locations now spread from Alaska to Maine and overseas from Scotland to Moscow. On the product front, this year the fully-custom-built VFF Pro and VFF models for men and women have a revised upper cuff which our tests showed was a worthwhile improvement. And in other DaleBoot expansion news, they recently purchased the complete collection of Black Diamond's shuttered boot molds and C.A.D. files with an eye toward resurrecting key models with new looks and DaleBoot-designed Intuition liners. We tested a prototype of the new, men's On-Off Area category DaleBoot AK 130 (named for team rider Aaron Karitis who perished while heli-ski guiding in Alaska in 2014) at this year's test and we will follow-up with additional tests and another review in early winter.
Medals: 1 ABB Best of Test, 4 ABB Best of Category; Avg. score 18.88
This year's X Max boots for both men and women are rebuilt using the same molds but with polyamide plastic in the lower portion of the boot shell for increased energy and snap with a reduction of weight. The use of this plastic brings fit changes too—this material shrinks slightly, so the narrower shell has spawned the all new X Max Race 130 (and 120), a tightly packaged 96 mm frontside ripper. The regular X Max boots utilize a thinner liner construction to maintain a characteristic 98 mm fit. On the women's side a new, stiffer 120 flex X Max is available. On the other side, far away from the Frontside trenchers, Salomon launches their most backcountry touring focused models yet, the S/Lab X Alp and X Alp Explore, two 98 mm featherweights.
Medals: 1 ABB Best of Test, 4 ABB Best of Category; Avg. score 18.50
Dalbello turns the dial to 100! Millimeters that is—get it? The new line-up of Dalbello 100 mm medium-width boots for men and women capitalize on the success of the narrow, lightweight hiker Lupo Factory (formerly Lupo Carbon Ti) and the traditional strength of the narrow-class Krypton to produce two new medium-width boot lines for Dalbello in the Krypton AX and Lupo AX ranges. The Kryptons are area-based, cabrio lower boot All-Mountain rippers, while the Lupos are hike-mode enabled and tech-compatible cabrio designs. Dalbello is also at the forefront of the "new plastics" game in ski boots, using a range of materials to create different power-to-weight ratios and performance feels, from hand-laid carbon fiber and lightweight polyamides like Grilamid (Lupo Factory), to new high-grade, scuff-resistant polyolefin-rubber blends (Lupo AX).
Medals: 1 ABB Best of Test, 2 ABB Best of Category (out of 3)
While Scott's Grilamid-based Powerlite line got a slick revision on its cuff release mechanism, the big story at Scott for this season is the debut of its S1 series of big-mountain touring boots. Designed to combine big powerful descents with highly effective touring mobility, they put the cuff release mechanism front and center. No, literally front and center, right on the front of the Power Bridge exterior tongue! The Front Hook ski-walk mechanism unlocks an accordion-style hinge point which allows the boot cuff to travel forward on an axle-like pivot point up near the ball of the foot. Simply unbuckling the cuff releases it to travel rearward. While we were unable to ski a finished version at the boot test, we're looking forward to testing this unique solution for increasing touring range of motion without loss of skiing power.
Medals: 1 ABB Best of Test, 2 ABB Best of Category (out of 4)
Scarpa refreshes the Maestrale RS and women's Gea RS this year with a complete rebuild, creating boots that are 10-percent stiffer, 10-percent lighter and that have 10-percent more touring range of motion. Scarpa's unique open cross-beam structure of the Evo V-Frame cuff (Grilamid) creates a rigid structure at minimal weight that's also breathable by way of unique OutDry waterproof laminate panels. The Web Frame lower shell employs long-strand carbon fiber within the Grilamid injection process to make an even stiffer structure for translating foot and leg movements to the ski. Connecting the new lower shell and upper cuff is the redesigned and sleek Speedlock Plus Ski/Walk mechanism which enables low-friction range of motion in touring mode and a bombproof metal-to-metal connection for the descent.
Medals: 3 ABB Best of Category
This season Fischer doubles-down on its customizing technology niche with a clever, new Vacuum tool kit, a cleanly redesigned Vacuum station and a well-executed 3-D foot scanning unit with a targeted boot sales and fitting software package. The Vacuum Zone Fit tool utilizes self-adhesive, silicone heating pads of a variety of shapes to directly heat particular areas of a Vacu-Plast shell. This allows for simultaneous heating of up to 8 zones and takes only 10-15 minutes. The slick Vacuum station has been re-built with the Vacuum Zone Fit tool and new Vacuum 3D foot scanner both seamlessly integrated into its spacey pod-like platform (with the coolest, futuristic fit chair ever, too). The 3D scanner maps both foot and lower leg to generate a digital image for identifying best new boot matches and potential boot fit issues.
Medals: 2 ABB Best of Category
Roxa already has more overlap and cabrio boot designs, in more different width options than you'd ever know about, and now this year they've come with a completely new three-piece (cabrio lower) line-up for men and women, in both hike mode options and traditional cuffs alike. The R3 series is a new, low-profile 99 mm last three-buckle with hike-enabled cuffs that was developed with help from Roxa athlete Glen Plake. The Element boots are traditional cabrio spin-offs of this same design. At the top end of the R3 line Grilamid plastic is used widely for a lightweight, rigid platform, and polyurethane is used at lower price points. Tech fittings and GripWalk soles are found on top models of the R3 range for men and women.
Full Tilt returns this season with its classic three-piece shell collection, spanning narrow 99 mm Soul and Original fits to the 102 mm Evolution shell. For skiers looking for Full Tilt's characteristic long-travel flex feel in boots that are easy on, lightweight and warm they will find them in the three boots we tested this year: First Chair, Descendant 8 and Soul Sister. Intuition, spiral-wrap liners are incorporated across the Full Tilt line in three different builds. They remain the lightest, warmest and most highly moldable liners on the market.
Apex returned to the boot test this year with a brand new women's boot, the XP-L, a feminized version of the new, men's XP that launched last season. Key changes to the women's boot include a shorter boot sole length that makes walking while buckled into the open chassis frame easier and creates a smaller footprint on the ski for a better flexing arc. Fit tolerances between the XP-L's inner walking boot and the exterior frame are tighter for a better connection between skier and ski, as well. This year, veteran and rookie testers alike point to the Apex boot system as a unique way to cure your ski boot walking woes.