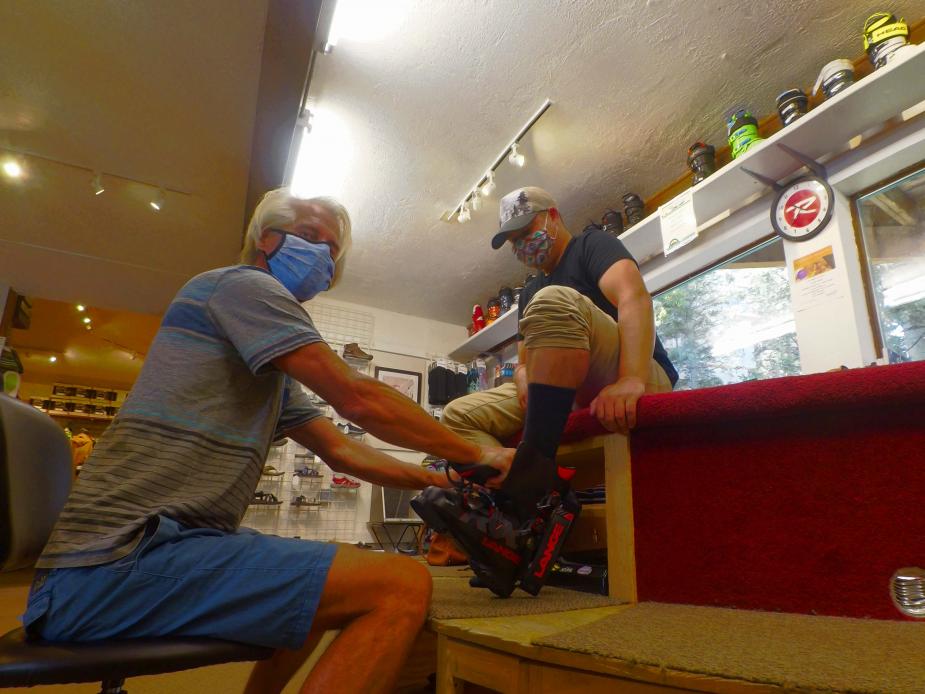 Buying Ski Boots in The Time of Covid
Aug 19, 2020 - 03:36pm by
Mark Elling
The walk-in boot try-on or fitting session may simply be a thing of the past. Many specialty bootfitting operations may make pre-set appointments the only way to get with a bootfitter. Fit bench seating will be limited for sure, so at the very least expect a queue to get a time slot if walk-ins are still available. Be sure to call your shop ahead of time to see what its preferred scheduling program is and find out if you can bring family or friends with you—shopping space may be limited too. Many shops may also employ ways to maximize customer flow but limit in-person time, like collecting customer information ahead of an appointment and utilizing digital imaging systems to get initial assessment data in a waiting room style environment, so don't be surprised if your bootfitting session feels a little more clinical this season.
You can expect that good bootfitting operations will be sanitizing the seating and fit areas between customer interactions, as well as sanitizing touch tools like Brannock measuring devices and custom footbed casting systems. You can expect to be asked to wear a mask—your bootfitter at your feet (most likely also in a mask or face shield and possibly safety glasses) is downstream of your droplet dam, so please don't be offended, just help out him or her and play by the shop rules. Plan to bring clean ski socks or be prepared to buy a new pair—that try-on sock bin has probably been 86'd.
Trying on boots is a touchy subject, so to speak, so you can expect that either every boot tried on will have been disinfected with an approved spray before it was last re-boxed and returned to the stock room, or you, the customer, may be asked to don gloves for try-on.
More than anything the boot search and bootfitting experience this season will become more of a targeted, surgical strike where both the customer and bootfitter go in prepared to get some good work done, quickly, so that others can be helped, too. Boot modifications may be marked-up in-person but completed after hours with pick-up happening later, perhaps at the front of store. Custom footbeds may be molded at the time of appointment but similarly picked up later. One way you can maximize the effectiveness of your time on the bench is by knowing what type of boot you're looking for and perhaps having a short list of models in mind—we hope our reviews here speed you on your way. Good luck with your boot endeavors this season and we hope to see you in the shop and on the hill soon!